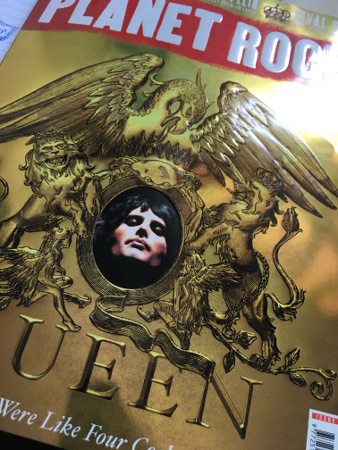 One magazine I personally think it is worth getting hold of is the Planet Rock magazine, Queen edition. It is easily one of the finest front covers I have ever seen. It has a golden foil cover, with the Queen crest embossed, and even a die-cut sleeve, revealing the Queen II album cover on page 3.
On page 2 (the back of the front cover) is a full page, pretty cool original press kit from 1977, looking like The News Of The World paper in black/white, covered in dark grey color and it is almost invisible when you first look at it...
Planet Rock, the radio station, has just started making these magazines in the summer of 2017, so this is actually issue NR.2, and will be pretty collectable many years from now, for Queen fans but also magazine collectors.
It is also like the Classic Rock magazine, focusing on the 40th Anniversary of News Of The World, but also on Queen past, present and future + includes a very beautiful description of Queen's 20 heaviest tracks, numbered from 1 to 20 (with pictures and using the NOTW font with red numbers, pretty cool).
One thing I noticed right now, is that on the magazine's spine, it is written:
Planet Rock ISSUE 2 ----------------------- "Well, you're just 17 and all you wanna do is disappear.. "
There is also a tiny crown on the spine, to the left for
Planet Rock ISSUE 2
. So this is with no doubt dedicated to Queen.
But if you want to get this one, you must hurry up, because issue 3 is already on the way...