Though Mike Grose played only 3 gigs with them, and the first one they were still named Smile.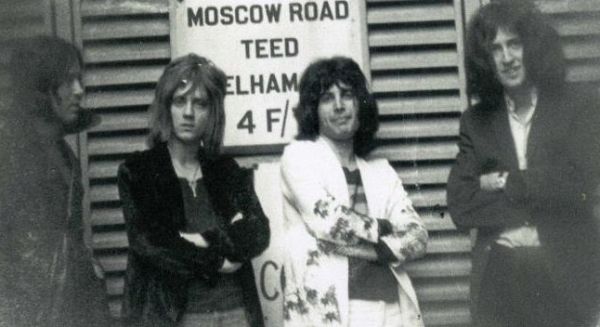 The original Queen, with Mike Grose on bass guitar.
Queen in Hertford, UK on 14.11.1970 (written by Mike Cole):
Line up:
Freddie Mercury (lead vocals, tambourine),
Brian May (electric guitar, backing vocals),
Roger Taylor (drums, backing vocals),
Barry Mitchell (bass guitar)
Support band: Full Frontal Nudity
Story:
It was not until the band turned up and we saw the drum kit with 'Queen' painted on it that we quizzed them - we at first thought that this was a substitute band and not the one we had booked. They informed us that they had recently changed their name to 'Queen' since appearing at the Cavern Club - they then tried to squeeze a bit more money out of us on the basis that they were now more famous having played on the same stage as the Beatles!

The Liverpool gig was I believe a couple of weeks before the gig at our college - so if they did change their name following the Liverpool gig, our assertion is correct. Certainly the management company was still booking them as 'Smile' in late September -
http://www.queenconcerts.com/live/queen/early.html
As late as 1971, they were billed as Roger Taylor's Group. Former Smile "Queen".